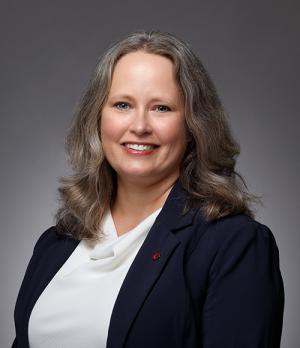 Mary Stromberger, PhD
Vice Provost for Graduate Education and Dean of the Graduate School
Mary Stromberger, PhD, is Vice Provost for Graduate Studies and Dean of the Graduate School. She is a leader who holds a student-centric vision for graduate education and believes that a thriving graduate school is one that mentors students, advances belonging, strengthens relationships, and bolsters collaboration across the university. Dean Stromberger also holds the ENGIE-Axium Endowed Chair and has a concurrent professor appointment in the School of Environment and Natural Resources.  Her appointment began August 1, 2022.
Prior to her arrival at OSU, Mary was the Vice Provost of Graduate Affairs and Dean of the Graduate School at Colorado State University, Fort Collins, CO, where she supported over 6,000 graduate students in all aspects of graduate education, research, teaching, and well-being. At CSU, she championed graduate student support and inclusion. She established the CSU's Graduate Center for Inclusive Mentoring, which provides mentor training to faculty and students, hosts social activities, and supports recruitment and retention of students from underserved populations.
Among other achievements, Mary has grown professional doctorate and PhD programs, increased support of graduate interdisciplinary programs, and updated policies and procedures that have improved student experience and staff culture. Prior to being CSU's vice provost and dean, she served as associate dean of the Graduate School and chair of the university's Faculty Council. She joined CSU in 2001 and was a tenured professor in the university's Department of Soil and Crop Sciences. Mary is nationally and internationally recognized for her research on plant-root microbiomes, soil ecosystems, and soil health.
Mary earned her bachelor's degree in biology and microbiology at West Chester University, her master's degree in soil science at the University of Delaware, and her PhD in soil science at Oregon State University.