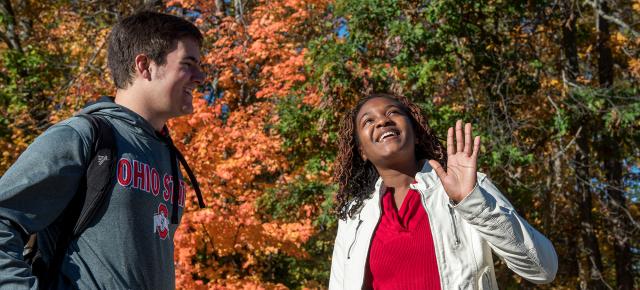 Learn about the steps that lead to a graduate degree.
Whether you're considering a graduate degree or are a recently admitted student, it's helpful to have an overview of what you'll experience while at Ohio State. 
Resources for Completing Your Degree
Course Registration

Timely and accurate registration is vital. These instructions, calendars, and tips will help keep you on track
Dissertations and Thesis

The dissertation is the hallmark of the research expertise demonstrated by a doctoral student. It is a scholarly contribution to knowledge in the student's area of specialization. By researching and writing a dissertation, the student is expected to demonstrate a high level of knowledge and the capability to function as an independent scholar. 

A thesis is a hallmark of some master's programs. It is a piece of original research, generally less comprehensive than a dissertation, and is meant to show the student's knowledge of an area of specialization. 
Examinations

Graduate degree examinations are a major milestone in all graduate students' pursuit of their graduate degree. Much hinges on the successful completion of these examinations, including the ability to continue in a graduate program. 

The rules and processes set by the Graduate School ensure the integrity of these examinations for graduate students, the graduate faculty, and for Ohio State.
Funding

Learn more about fellowships, graduate associateships, grants, tuition and fees and financial education.
GRADFORMS

If you need to add a minor, GIS, or certificate program, file specific forms concerning enrollment, or apply for graduation; GRADFORMS is a one stop shop for filing necessary documents with the graduate school that assist in the completion of your degree and time at Ohio State.
Graduate Associates

These appointments support graduate students and give them an opportunity to experience teaching, research, or administrative activities. Learn about requirements, the paycheck calendar, payroll deduction, summer fee authorization and other aspects of being a GA.
Graduate Fellows

Fellowships provide funding to pay for tuition, fees, student health insurance, and more. Graduate fellows also receive special privileges for parking and library services.
Handbook

The Graduate School Handbook is the master policy and guideline reference for all graduate programs. Faculty, staff and students use it to clarify degree requirements, procedures, timelines, and more.
Research Resources

Ohio State is a top ranked research institution with an array of resources available for exploring research and creative scholarship. Visit our research resources to find out how to start or support your graduate research goals.
Social, Wellness and Student Life

Part of graduate education at Ohio State is exploring the wealth of resources, networking opportunities and avenues for developing oneself as a professional in a given field of study. Learn more about how to take advantage of social activities, wellness practices, and being a part of student life at Ohio State. 
Career Building Strategies and Skill Development

Support to help you attain the career you want, these resources at Ohio State for graduate students are many, varied and offered across the campus.